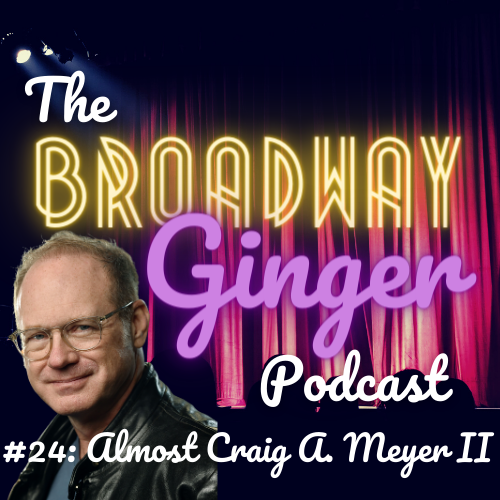 Well y'all, we've made it. Our 24th episode marks the finale of our second season, and we could not be more proud of the work we've done and more grateful for the support we've received from our listeners. We have appreciated having you along to share in our journey! In our second season, we added in some interviews with theatre professionals and cycled through some new co-hosts to bring a fuller (hey it's my name!) landscape of theatre conversations. And we intend to continue that in Season 3.
We won't be taking a long break, so don't fill up your Mondays yet. We'll be back with some exciting guests announced very soon! In the meantime, pick out some BGP swag and tell your theatre nerd friends to block off Mondays in April for more theatre and more jazz hands.
There are few experiences that bring people together quite like sharing moments of live theatre. In today's episode, host Sally Fuller continues her conversation with special guest Craig A. Meyer to revisit some of the best performances he saw during his 20 years as a Tony Awards voter. Yes, the words "Audra" and "Norbert" are said, and we discover that though Sally and Craig saw the same show a couple months apart, they witnessed very different versions of John Larroquette.
Shout-outs
Craig A. Meyer rocks our socks off. Check out his amazing show "Remember When Rock was Young: the Elton John Tribute Starring Almost Elton John", coming to a theatre/streaming site near you!
Our favs: Elton John, Remember When Rock Was Young, The Tony Awards, Cabaret, Joel Grey, Alan Cumming, Ragtime, Audra McDonald, Carousel, Masterclass, Maria Callas, How to Succeed in Business Without Really Trying, Daniel Radcliffe, Harry Potter, John Larroquette, Anything Goes, Sutton Foster, Thoroughly Modern Millie, Patti LuPone, Lincoln Center, Norbert Leo Butz, Douglas Sills, Dirty Rotten Scoundrels, Big Fish, Wicked, Catch me if You Can, Larry Blank, Rachelle Rak, Marc Shaiman, Scott Wittman, SAG/AFTRA, The Phantom of the Opera, The Lightning Thief, Rob Rokicki, Aaron Tveit, Beautiful, My Fair Lady, 42nd Street
Special thanks to Peachy Corners Cafe, Crazy Love Coffeehouse, Land of a Thousand Hills Coffee, Ground & Pound Coffee, and Noble & Main for being the best editing offices.
BGP would not be possible without behind-the-scenes team members Thomas Fuller and Elise Friderich.
Bonus Gallery
Bonus Videos
For the budding theatre fans
What's it like to see Craig perform in a "virtual" setting these days? It's a lot like bringing a rock concert into your living room.
For the fangirls
What's all the fuss about Norbert Leo Butz? EVERYTHING. Watch him in his mesmerizing Tony Award-winning performance as Hanratty in Catch me if You Can at the Tonys.
For the die-hards
As Craig described her, Patti LuPone is the unbeatable Reno Sweeney in Anything Goes, but you can decide for yourself!
Addendums
To answer our question, yes, Alan Cumming's name was above the title.
Subscribe to our Episodes: Apple Podcasts | Google Podcasts | Spotify | Breaker | Pocket Casts | Radio Public | Castbox | Overcast | Podcast Addict
Follow Us: Instagram | Twitter
We would eternally appreciate any support you would like to give us to cover the costs of our microphones, sound equipment, headphones, domain name, and the 40+ hours we spend putting each episode together! Anchor Support