This week we're giving y'all full frontal Hugo. Victor Hugo, that is. But before we get into that, we wanted to let y'all know some exciting developments! The Broadway Ginger Podcast can now be heard on ten streaming platforms, including the newly added Castbox, Overcast, and Podcast Addict. Also, we recorded Season 1 of BGP way in advance, and it was between recording Episodes 3 and 4 that we figured out how to vastly improve our sound quality. We're excited to get to share the first of the new and improved BGP episodes with y'all!
The only thing more exciting than a Disney movie is a Disney Broadway musical. While the House of Mouse gave the people what they wanted via Broadway mounts of Beauty and the Beast, The Lion King, Frozen, Tarzan, Mary Poppins, and Newsies, did you know there are Disney shows that have been performed in regional theatres around the world and still haven't made it to Broadway?
Today's episode sees Sally and Ashley take a deep dive into one such show, The Hunchback of Notre Dame. Neither of us has any chill whatsoever, as we deliver love letters to "the hunch of dame," bring the BGP "full frontal Hugo," and make a case for why Terrence Mann MUST play Frollo whenever it comes to Broadway.
Shout-outs
Hunchback of Notre Dame rocks our socks off. Check out the Original Studio Cast recording or listen to the Original German Cast recording here.
Know who else knocks our socks off? The Holly Theatre, Aurora Theatre, and Theatrical Outfit who did rockin' productions of Hunchback that Ashley and Sally saw. Check out their amazing work and consider showing them some financial love!
Relevant favs: DISNEY, The Goodman Theatre, Mary Zimmerman, Alliance Theatre, Mulan, High School Musical, Idina Menzel, The Fox Theatre, Hercules, Alan Menken, David Zippel, The Public Theatre, Krysta Rodriguez, The Public Theatre, Patrick Page, Michael Arden, La Jolla Playhouse, Paper Mill Playhouse, Hamilton, Terrence Mann, aka, T-Dog.
Other mentions: Little Women the musical, Les Miserables
Special thanks to Crazy Love Coffeehouse, Land of a Thousand Hills Coffee, Ground & Pound Coffee, and Noble and Main for being the best editing offices.
What can be more homeschooler than reading the Great Illustrated Classics versions of classic literature? Nothing. That's what.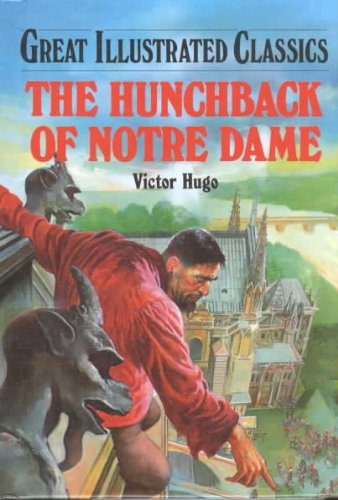 Bonus videos
For the budding theatre fans
For the fangirls
For the die-hards
Addendums
"Made of Stone" actually was in the original German version, Der Glöckner von Notre Dame as "Wie aus stein."
Les Miserables must have been on the brain, which would explain why I mistakenly called Frollo "the bishop," though he's technically the Archdeacon.
We had to cut out the moment Ashley shared that the same team who wrote the music and lyrics for Hercules and Newsies wrote "Star Spangled Man" for the Captain America film. So we're saying it here. Mind blown!
Another part that didn't make it was Sally's love letter to Aurora Theatre/Theatrical Outfit's incredible production of Hunchback in 2017. But you can read all about that in Top 10 Reasons to Drop Everything and see HUNCHBACK at Aurora/Theatrical Outfit Yesterday.
We apparently aren't the only ones who think Frollo is literally Javert. This video isn't that great, but it conveys the idea that the characters are the same.
Etiquette corner
Don't continually get up and leave to get drinks during a show. Idina Menzel will find you and call you out.
Subscribe to our Episodes: Apple Podcasts | Google Podcasts | Spotify | Breaker | Pocket Casts | Radio Public | Castbox | Overcast | Podcast Addict
Follow Us: Instagram | Twitter
Support Us: (please?)Anchor Support