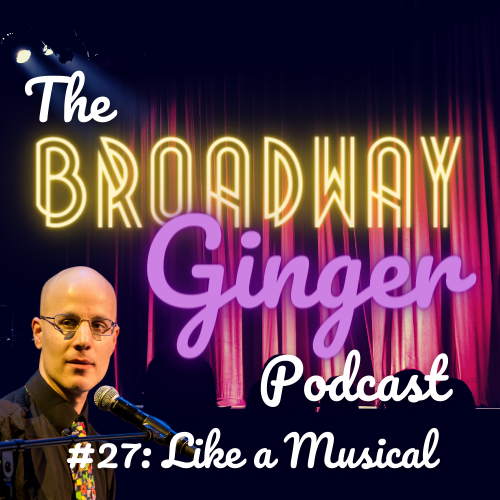 Ever wonder what a performer is thinking as they sing an opening number for the millionth time? Or what it might be like to sing a love song to a co-star they hate? Songwriter Alexander S. Bermange has taken those concepts to an extreme in his musical revue I Wish My Life Were Like a Musical, now streaming through May 12, 2021 on KingsHeadTheatre.com. Today Bermange joins the BGP fam to share how a background in musical theatre and comedy led him to create a love letter to musicals that "takes the mickey out" of it in an endearing way. And as a special bonus to this episode, you can hear one of the songs from the show at the end of this episode, so stick around after the interview!
Shout-outs
I Wish My Life Were Like a Musical rocks our socks off. Click here to stream it before it closes on May 12th!
You know what else rocks our socks off? King's Head Theatre. Make sure to check out their whole "Plays on Film" series beyond I Wish My Life…
Our favs: Rodgers and Hammerstein, Cameron Mackintosh, Tim Rice, Andrew Lloyd Webber, A Chorus Line, Michael Bennett, Charlotte O'Rourke, Mamma Mia!, Lucas Rush, Luke Bayer, Charlotte Anne Steen
Special thanks to Peachy Corners Cafe and Roam for being the best editing offices.
BGP would not be possible without behind-the-scenes team members Thomas Fuller and Elise Friderich.
Bonus Gallery
Bonus Videos
For the budding theatre fans
For the fangirls
For the die-hards
Addendums
My American listeners to this might wonder, as I did, what "taking the mickey" means. "To take the mickey out of" something means to make fun of it, from what I can gather.
Subscribe to our Episodes: Apple Podcasts | Google Podcasts | Spotify | iHeart Radio | Amazon Music | Breaker | Pocket Casts | Radio Public | Castbox | Overcast | Podcast Addict
Follow Us: Instagram | Twitter
We would eternally appreciate any support you would like to give us to cover the costs of our microphones, sound equipment, headphones, domain name, and the 40+ hours we spend putting each episode together! Anchor Support